TMT Bars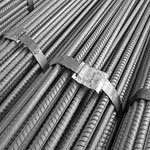 The Thermo Mechanically Treated TMT Steel Bar/ Rods also known as reinforcement steel and wire rods are primarily used by the construction industry. We offer world class TMT bars that are procured from the best manufacturers across the country who guarantee the quality and strength of Bars. Our TMT Bar is the iron rod that comes with ribs on its surface and used in concrete work of buildings. Subsequently, it comes in FE415 grade and FE500 grade as per the requirement of project. The TMT Bars, provided by us, are fabricated using latest technology that makes them unique among any other available in the market. Compliance to IS 1786 standards and tested from thermo electrical treatment, our TMT Bars are in huge demands. We provide TMT bar Rods of sizes: 8, 10, 12, 16,20,25,28,32 mm.
Feature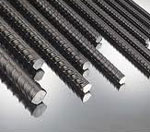 High Strength.
Good weld ability and Formability.
Excellent corrosion resistance.
Chemically and Physically tested.
Thermo Electrically tested and fabricated using latest technology.
Application.
Infrastructure applications like Bridges, Roads, Dams, Flyovers, Tunnels, etc.
Commercial applications like Malls, Complexes, Skyscrapers, etc.
Coastal Construction.
Power plants.
Sizes:
Below is the sectional weight kilogram per meter of TMT Bars as per ISI standards
Size
Sectional Weight (kg/ m)




8MM
0.395
10MM
0.617
12MM
0.890
16MM
1.580
20MM
2.470
25MM
3.860
28MM
4.830
32MM
6.310
36MM
7.990
40MM
9.850