MS Round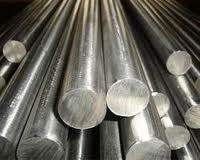 We are offering a unique range of M. S. Round Bar that is highly appreciated for its apprehensive features which are manufactured by leading companies.
Available in Straight and right thickness, these M. S. rounds are configured as desired by clients.  These are offered to cater various industrial requirements and are available at industry leading prices.
Features
Compliance to ISI standards.
Withstand temperature and pressure.
Resistant to corrosion.
Available in various shapes and sizes.
Applications
Round bars are used for various applications like hardware, petrochemical, construction, electric, boiler burning equipment, surgical equipment, water heating equipment, power mills, etc.
These bars are also utilised in manufacturing of automotive vehicles, ships, etc.
Sizes
Size
Weight in Kgs. per Feet
Weight in Kgs. Per Mtr.







ROUND 12
0.271
0.89
ROUND 16
0.481
1.58
ROUND 18
0.753
2.47
ROUND 20
0.753
2.47
ROUND 22
0.908
2.98
ROUND 25
1.173
3.85
ROUND 28
1.472
4.83
ROUND 30
1.692
5.55
ROUND 32
1.923
6.31
ROUND 36
2.435
7.99
ROUND 40
3.006
9.86
ROUND 42
3.314
10.87
ROUND 45
3.807
12.49
ROUND 50
4.698
15.41
ROUND 56
5.896
19.34
ROUND 60
6.768
22.20
ROUND 63
7.460
24.47