MS Angle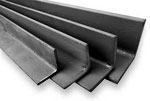 Our company supplies a broad range of supreme quality MS Angles to our clients. Available in various length and weights as per client's specifications, these steel angles are very durable and functional. We offer our range of angles at industry leading prices to our clients and are ISI certified. The quality of our angle bars is highly appreciated in the market which has led to higher orders and demand for our products. These are used as structural steel.
The structural material is with cross section of 90 degree angle. The dimension is determined by the length and the thickness of the two sides. Structural steel is used in all construction activities. The most common length available is between 10m to 12m. The most commonly found steel angles are formed at a 90 degree angle and has two legs of equal length. The sides are either equal or of different sizes, if one leg is longer than the other then it is known as Unequal angle. The steel angles of various strengths like HT/ MS are formed as required by different applications.
Features
Fabricated from BILLETS & INGOTS.
Anti-corrosive.
High tensile strength.
Durable.
Withstand high temperatures and pressure.
Applications
M. S Angles are applied widely in reinforcement, transmission towers, bridges, shed.
Ideal for use in building construction works and industrial structures.
Heavy Automobiles.
Sizes
Below is the sectional weight kilogram per meter of different size of Angle as per ISI Standards
Size
Sectional Weight (KG/ M)
Size
Sectional Weight (KG/ M)



35X35X5
2.60
70X70X6
6.30
35X35X6
3.00
75X75X5
5.70
40X40X3
1.75
75X75X6
6.80
40X40X5
3.00
75X75X8
8.90
40X40X6
3.50
75X75X10
11.0
45X45X3
2.00
80X80X6
7.30
45X45X4
2.70
80X80X8
9.60
45X45X5
3.40
80X80X10
11.80
45X45X6
4.00
90X90X6
8.20
50X50X5
3.80
90X90X8
10.8
50X50X6
4.50
90X90X10
13.4
60X60X5
4.50
100X100X10/12
14.9/ 17.7
60X60X6
5.40
110X110X10/12
16.6/ 19.7
60X60X8
7.00
130X130X10/12
19.7/ 23.5
65X65X5
4.90
150X150X10/12/16/20
22.9/ 27.3/ 35.8/ 44.1
65X65X6
5.80
200X200X16
48.5
65X65X8
7.70
200X200X20
60.0
65X65X10
9.40
200X200X24
70.8
70X70X5
5.30