MS Square
We offer a comprehensive range of M. S. Square to our clients that are procured from leading manufacturers. These are of high quality and are available in accurate width and threads as per clients requirements.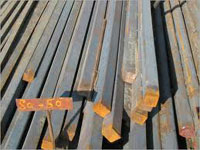 Features
High Tensile Strength.
Made from premium quality Billet/Ingot.
Resistant to regular wear and tear.
Anti-corrosive properties.
Long lasting and cost effective.
Applications
Square bars are used as guide rails for material handling equipments. M. S. Square are used mainly for the manufacture of storage tanks, boilers, railway wagons and pressure vessels, bridges, steel structures, ships, large diameter pipes etc.
Sizes
Size
Weight in Kgs. per Feet
Weight in Kgs. Per Mtr.







SQUARE 5x5
0.059
0.196
SQUARE 6x6
0.085
0.283
SQUARE 8x8
0.153
0.502
SQUARE 10x10
0.239
0.785
SQUARE 12x12
0.344
1.130
SQUARE 16x16
0.612
2.099
SQUARE 20x20
0.957
3.140
SQUARE 25x25
1.495
4.906
SQUARE 32x32
2.449
8.038
SQUARE 40x40
3.828
12.560
SQUARE 50x50
5.981
19.617
SQUARE 63 X 63
9.497
31.160
SQUARE 65x65
10.109
33.160
SQUARE 75x75
13.458
44.156
SQUARE 90x90
19.380
63.585
SQUARE 100x100
23.926
78.5
SQUARE 110X110
28.948
94.980
SQUARE 125x125
37.385
122.656