MS Pipes
We offer a complete and industrial range of M. S. Pipes to our clients which are procured from leading vendors. Our range of M. S. Pipes include square hollow pipe, rectangular hollow pipe and triangular hollow pipe. These pipes are available in various grades, thickness, length and weight as per clients requirement.
Features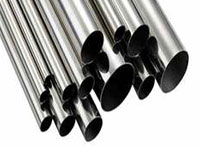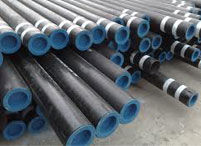 Corrosion resistance.
Durability.
High material strength.
Excellent tensile strength.
MS Seamless Pipes
MS Seamless Pipes are produced from quality proven mild steel. Available in length of up to 7 meters and outer diameter ranging from 4 mm to 600 mm, these pipes are durable, leak proof and corrosion and chemical resistant.
Applications for Seamless Pipes
Oil & gas sector.
Automotive industry.
Hydrocarbon & process industry.
Bearing industry.
Boiler, heat exchanger, condenser.
Hydraulic cylinder.
Railways.
We also deal in short lengths in seamless pipes. They can be customized as per the specific length required by the customer.
Sizes
| | |
| --- | --- |
| OUTER DIAMETER (MM) | 4mm to 600mm |
| THICKNESS(MM) | 0.5mm to 50mm |
| LENGTH | UPTO 7 MTRS |
| APPLICATIONS | Bushes Spacer Roller Machining parts Boilers Oil lines Pressure purpose Hydraulic purposes |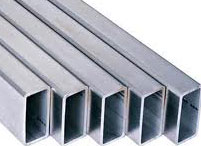 M. S. Square and Rectangular Pipes
our company supplies a wide variety of MS Square and Rectangular Pipes. Available in different length, height, diameters and widening gap range, these pipes are famous among our clients for their corrosion resistance and high tensile strength. Designed according to the requirements of clients, these sleek pipes are used for ornamental fencing and for various other infrastructural, architectural and industrial purposes.
RHS Sections
| | |
| --- | --- |
| Size (MM) | 25 x 50 mm to 300 x200 mm |
| THICKNESS(MM) | 1.6mm to 12.0mm |
| LENGTH | UPTO 7 MTRS |
| APPLICATIONS | Bridges, bus stands, sports equipments, trusses, columns & purlins, automobile chassis, truck & bus body members, transmissions line towers, mechanical, heavy engineering, mining and resources, process engineering, materials handling, agricultural and fencing etc. |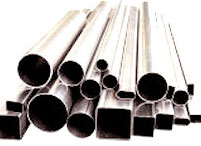 Square Tubes
Due to their structural specification have high demand in the end-use application. ERW Square Tubes are used for the purpose of both sleek and trendy as well as ornamental fencing. They also find application in the automotive industry and are widely popular in architectural and building industry for lending that extra support coupled with strength. These sections are confirmed to IS-4923. These sections can be made available in YST-310, YST-240 grade as per requirement. We have firmly positioned ourselves as one of the overruling Metal Square Tubes manufacturers and suppliers based in India.
SHS Sections
| | |
| --- | --- |
| Size (MM) | 25 x 25 to 250 x 250 |
| THICKNESS(MM) | 1.6mm to 8.0mm |
| LENGTH | UPTO 7 MTRS |
| APPLICATIONS | Bridges, bus stands, sports equipments, trusses, columns & purlins, automobile chassis, truck & bus body members, transmissions line towers, mechanical, heavy engineering, mining and resources, process engineering, materials handling, agricultural and fencing etc. |