MS Channel
We strive to provide our customers a wide assortment of good quality M. S. Channels, available in various standard sizes and weight specifications. Our mild steel channels are famous among our clients for their high tensile strength and longer life. These steel channels are specially designed as per specified by the client´s and are ISI certified.
Our range of mild steel channels includes U Channel and C Channel various grades, thicknesses, length and weight with varying dimensions as per customer's demand.
Features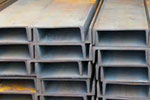 Complies to IS 2062 standards.
High Strength.
Durable.
Consistent performance.
Fabricated from BILLETS & INGOTS.
Application.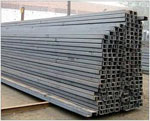 M. S. Channel is mainly used for all types of fabrication door & window.
Constructing buildings, roads, bridges, ships, etc.
Engineering works.
Construction works.
Metal works.
Petrochemical industry.
Sizes:
Size
Weight in Kgs. Per Feet
Weight in Kgs. Per Mtr.




ISMC 75 x 40 x 4.8
2.176
7.14
ISMC 100 x 50 x 5
2.914
9.56
ISMC 125 x 65 x 5.3
3.993
13.1
ISMC 150 x 75 x 5.7
5.121
16.8
ISMC 175 x 75 x 6
5.975
19.6
ISMC 200 x 75 x 6.2
6.798
22.3
ISMC 250 x 82 x 9
10.426
34.2
ISMC 300 x 90 x 7.8
11.067
36.3
ISMC 400 x 100 x 8.8
15.274
50.1