MS Plate
We offer qualitative range of plates/ chequered plates that is made from superior grade of steel by leading companies. Our range of plates are available in various grades, thickness, length and weight as per client's specifications and are ISI certified.
Features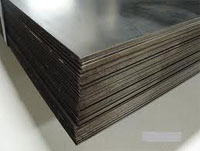 Compliance to international standards.
Trouble free performance.
Tensile strength.
Durable.
Resistant to corrosion.
Various dimensions and competitive pricing.
Applications
MS Plates are mainly used in construction of bridges, steel structures, ships, storage tanks, railway wagons and pressure vessels.
MS Plates are used for fabrication works and industrial usage.
Sizes
Thickness (mm)
Weight kg/ m
Thickness (mm)
Weight kg/ m




5
39.2
25
196.2
6
47.1
28
219.8
7
55.0
32
251.2
8
62.8
36
282.6
10
78.5
38
298.3
12
94.2
40
314.0
14
109.9
45
353.2
16
125.6
50
392.5
18
141.3
53
416.0
20
157.0
56
439.6
22
172.7
63
494.5